Perfectly Clean Glass? – Sure, Let's Do This!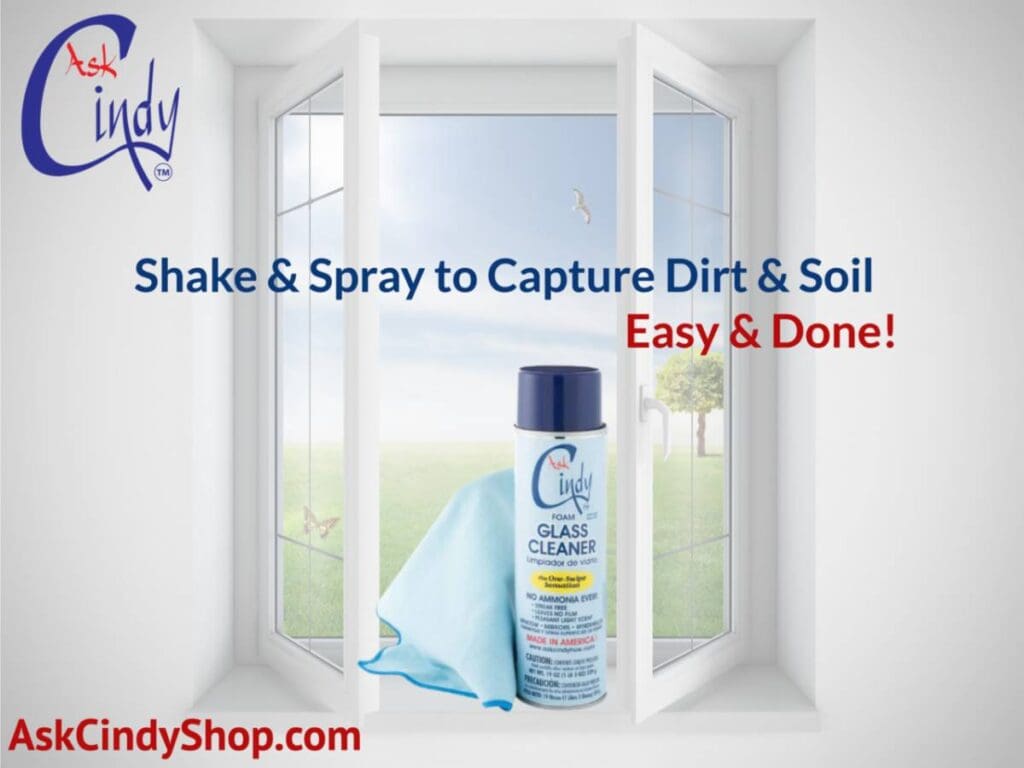 First and most importantly, the Ask Cindy glass cleaner is ammonia & alcohol-free! These two intense
ingredients can leave unsightly streaks or a cloudy film on glass windows & surfaces.
Additional Insights for Perfectly Clean Windows & Glass Surfaces:
Suppose you have a Stubborn Spot on the Exterior Window: To start the glass cleaning process create a soap & water solution: add 4-6 droplets of transparent dish liquid soap into 1/3 bucket of lukewarm water; wet your cloth & clean away the stubborn grime. Next, using plain clear water, thoroughly wipe to remove the soap & water solution; dry the glass surface
Dust Before Cleaning: Use the Ask Cindy MicroFiber suede & lint-free glass cleaning towels to dust and clean, unblemished glass surfaces. Use one side of the towel to dry dust the glass. Picking up every dust particle will create a good surface quality for cleaning success. Further, you will use the opposite side to spray on the glass cleaning solution.
Yes – now the glass surface is ready to be thoroughly cleaned: Clean away, applying the Ask Cindy Glass Cleaner onto the cloth. Shake & Spray a generous amount onto the preferred microfiber glass cleaning towel; clean & dry buff a spotless glass reveal that is gleaming w/o smudges & smears.
The Ask Cindy Microfiber towels are non-scratching & tightly woven for durability. Additionally, these towels clean glass efficiently & effectively every time!
Industry Secrets for Outstanding Window & Glass Cleaning:
Avoid cleaning glass windows during dazzling sunlight hours to prevent harsh & ugly glares.
Interior Glass Cleaning: lights out when cleaning mirrors, chandelier pieces, wall mirrors, and kitchen & bathroom lighting to avoid streaking & smearing.
Washing & Drying: Wet wipe the glass in multiple directions to avoid distinguishable smears.
When Dry Buffing for that shiny clear finish, ensure that the towel you use is clean.
Shining Exterior & Interior Glass Surfaces Can Be Yours To Enjoy!
Shop Now
Always wishing you outstanding cleaning outcomes for your "Home Sweet Home!"
Ask Cindy's Newsletter-Subscribe!