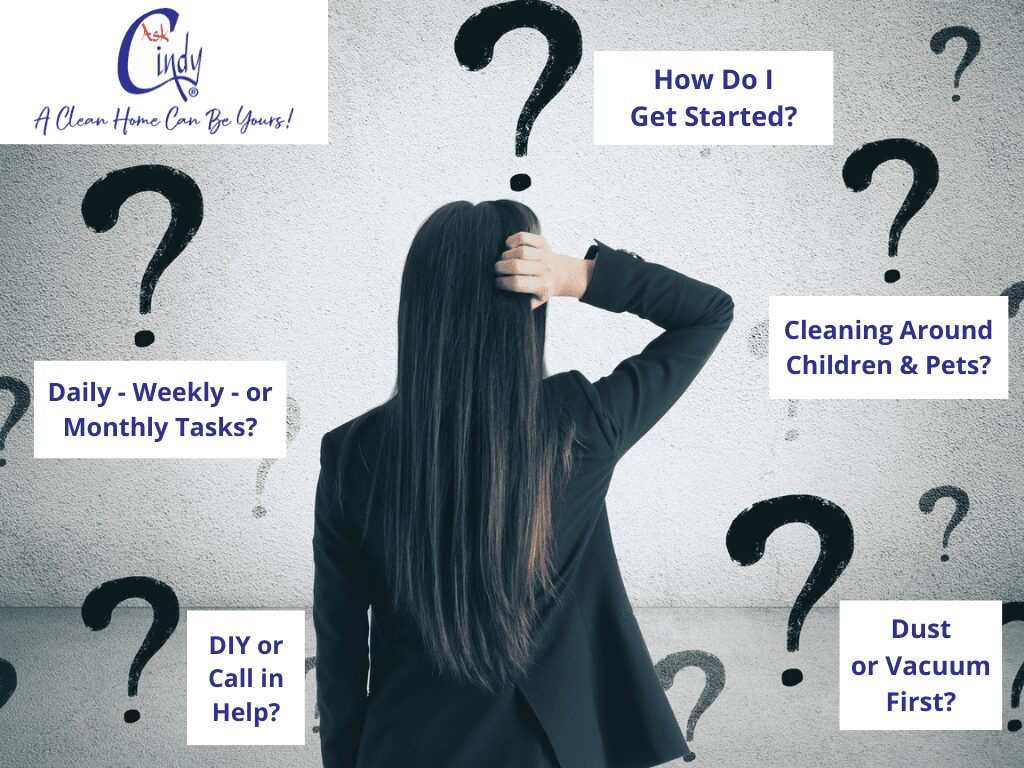 Ah, Summer. Its longer days offer more sunlight…perfect for spotlighting cleaning imperfections in the home! Even the tidiest rooms inside a home can benefit from a detailed second look for the overlooked or forgotten cleanup task. However, to avoid becoming overwhelmed, divide specific cleaning activities into smaller, more manageable tasks or consider hiring professional support services or individuals for those deep seasonal cleaning specifics. Let's explore the following considerations:
DIY or Do I Call in Help?
How to Get Started with House Cleaning Tasks?
Enjoy the Rest of This Summer; I'm Looking Forward to Bringing in the Fall with Each of You!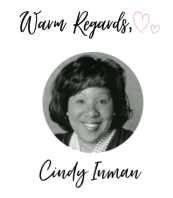 #LetsCleanHouseWithAskCindy
DIY Or Do I Call In Help?
Visual and distressful eyesores inside & on the outside of our dwellings alert us that cleaning knowledge & timelines matter!
Recognizable House Cleaning Concerns:
Powdery dust: Baseboards, floor

corners & furnishings.

Greasy film: kitchen cabinetry,

counters & appliances.

Wet Mildew: Bathtub, shower enclosure,

hot tub.

Any interior or exterior area:

adhering cobwebs.
Only "True" house cleaning know-how will safely abate the stated unsightly circumstances when these honorable mentions have accumulated.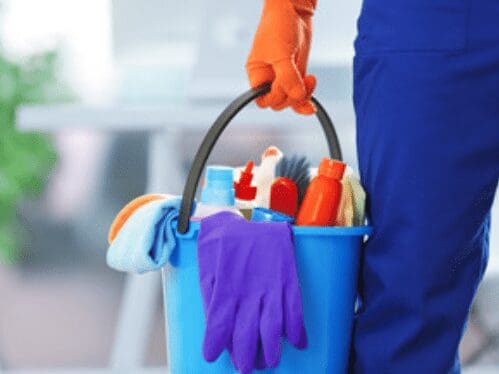 Problem: Your schedule is increasingly hectic, and you can't find the perfect time to complete or manage detailed house cleaning tasks. Your desire might be to research house cleaning how-tos and prioritize creating a cleaning memorandum for yourself (DIY), the designated housekeeper(s), or the contracted house cleaning service.
Solution: Here's where I can come in to support: I can create efficient & effective cleaning how-tos for every room in your home. Sharing from my thirty-plus years of "lived" fine home housecleaning experiences, you can bet that I have cleaning solutions beyond Ms. M.S. – Cindy Inman, aka Ask Cindy, is a house cleaning expert sharing meaningful cleaning knowledge from my direct cleaning experiences. Additionally, I present essential cleaning tools for specific house cleaning tasks saving you from needless disappointments. Many of these reusable cleaning essentials do triple-duty assignments. For your House Cleaning 101 education (None of us took house cleaning classes in school), Ask Cindy's celebrated cleaning outcomes are beautifully noticeable immediately in any space. This desirable outcome can be yours too for your domain!
I'm an email away from uniquely supporting your customized house cleaning how-tos: Hi Cindy.
Further, the following reasons explore why getting professional support may be preferable to exhausting yourself in trial & error cleaning experiences. Being solution-oriented, let's explore abbreviated reasoning:
Think of the times you wished your home was cleaner, especially when unexpected company arrived at the door. But, of course, that would include mom & dad too!
Fact: While you can perform an ongoing cleaning routine, it requires time consistency. The most significant plus is that you care about the cleaning approach and

the result.

One Appealing Solution: Bringing in a cleaning service provider ( weekly – bi-weekly – monthly) allows you to use your time on more desirable wishlist items. But, the best result for this generalized approach is to limit the number of cleaning tasks per visit; i.e., The bathroom, kitchen, bedroom, and floors are big bites out of house cleaning routines. The overall cleaning results for an entire residence are not pristine in every room/area because every item within a space is not touched and specifically cleaned to reveal that refreshed appearance. Additionally, the residence's intimacy is unfamiliar, along with abbreviated timelines supporting

diminished results.
Summary: Although hiring a cleaning service provider is helpful and can save you some time, you will need a "how-to clean my house checklist" – without this assigned customized blueprint, the provider's one-size fits all cleaning program along with their traveling vacuum cleaner, buckets, mops, brooms, & cleaning cloths to for use on your home's surfaces, furnishings, and this approach falls way short of desirable. The best practice is written cleaning particulars from you or customized directions created for cleaning your home for acceptable outcomes. In addition, use your privately owned cleaning essentials, period! Your in-house germs are yours to tolerate! Bringing in cleaning items that are used in others' homes daily is a cross-contamination oasis. A wise option is to direct the cleaning service provider to use your cleaning essentials and not to use their cleaning tools & solutions. "Please leave all traveling cleaning tools, solutions, brushes, and cloths, including the vacuum cleaner, in the car!" For the reasons stated, your residence will receive basic vs. the desired detailed cleaning results from this approach.
Hiring a Private Housekeeper for the Residence:
One-Two- or Five days a week, this only works with defined expectations. Private Housekeepers generally understand that specified cleaning outcomes for your home matter. Additionally, they realize that cleaning directions are in place for a purposeful result. Structuring associated how-to clean guidance is in place for safely producing beautiful outcomes every time. Cleaning guidance is an essential give-and-take process for a win-win relationship between the housekeeper & the employer. This overall approach eliminates misunderstandings and supports house cleaning results that will make both sides proud. Yes, they are friendly & lovely cleaning individuals, but you want a cleaning result that isn't disappointing; only clean is clean. Unfortunately, I know these disappointing circumstances all too well!
House Cleaning Success: Knowledge Matters: Professional Guidance Matters: Planning Matters.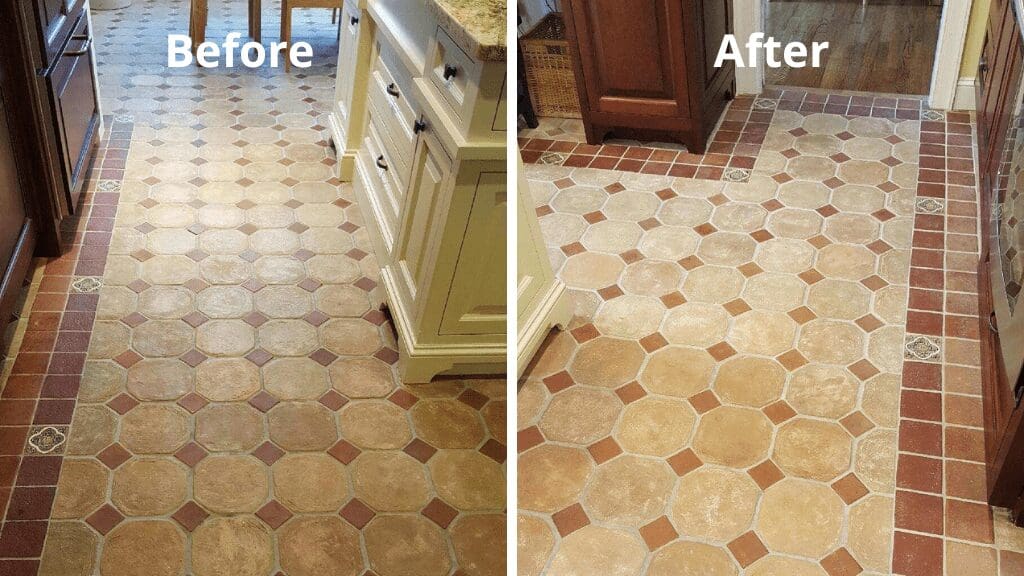 "Only clean is clean!"
Call-to-Action: "Cindy" I want to clean up this kitchen floor, but how? Solution: I created specific step-by-step directions for cleaning the stone floor surface, which included the soiled grout lines. Equally as important, you must protect the surrounding bottoms of the custom cabinetry during this cleaning process with clear plastic acting as a protector.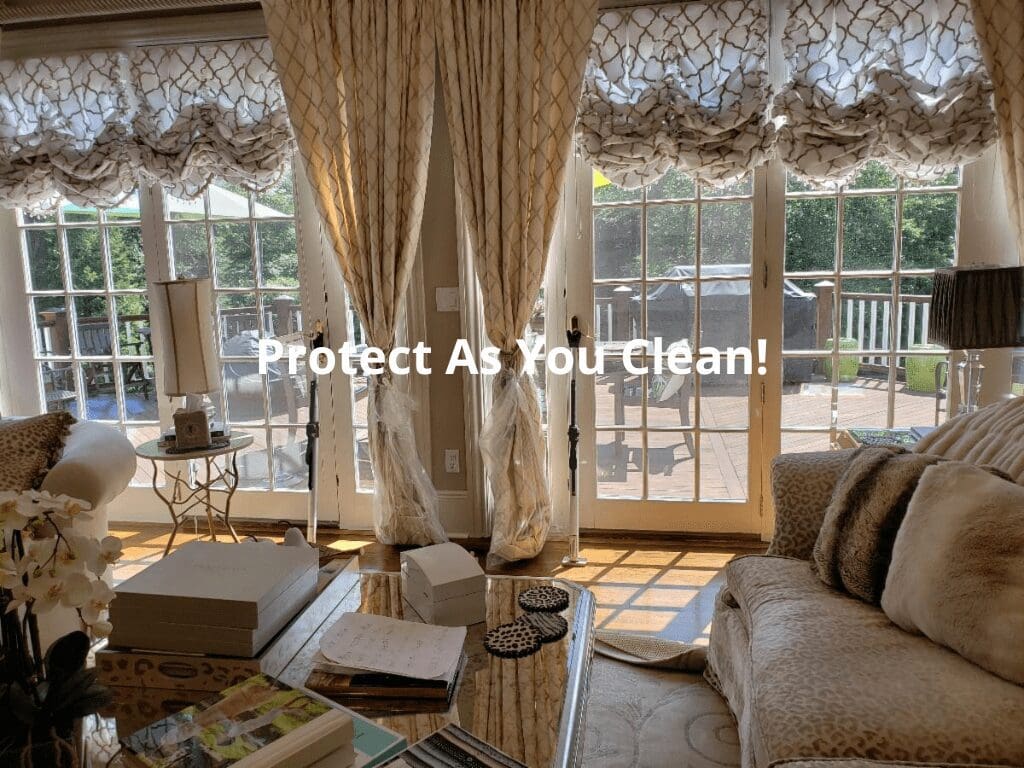 Call-to-Action: "Cindy" What is the best approach for prepping this room with its fine home furnishings for proper floor cleaning?
Solution: The first direction was to take a cell phone picture to memorialize the placement of relocated items from tables during the cleaning process. The second direction, protect the bottoms of the silk curtains with clear plastic bag encasement during the damp mopping process."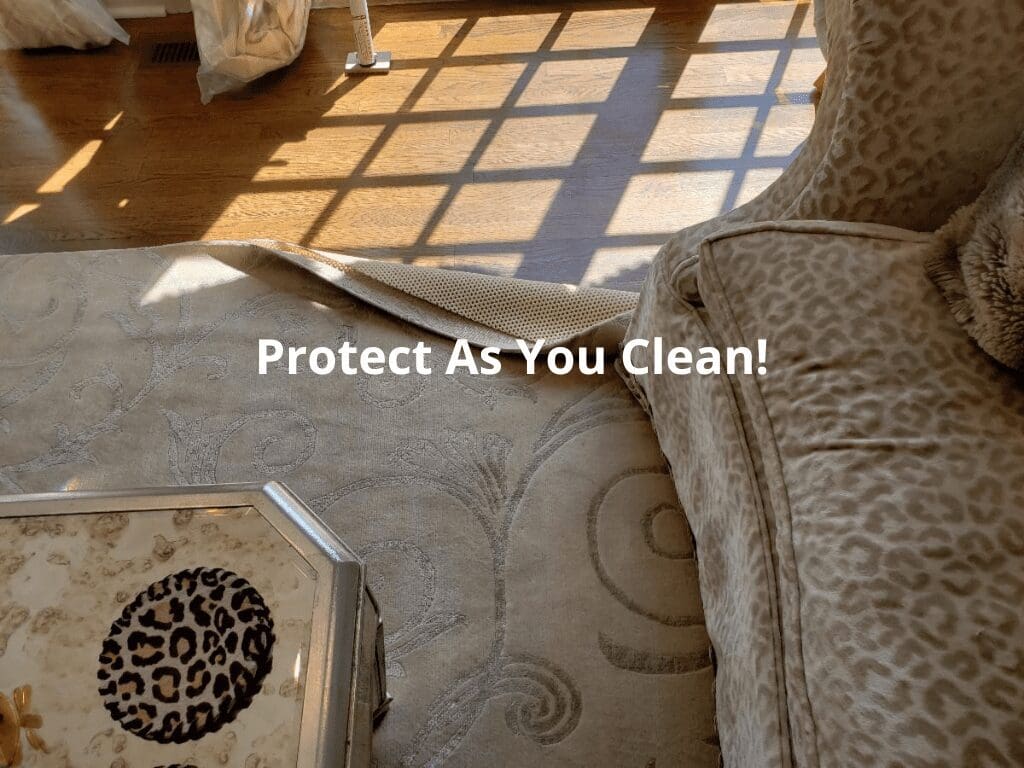 In the third direction, vacuum the entire top of the area rug & roll end the edges for a complete vacuuming underneath, going as far as possible – no need to lift the coffee table. Vacuuming underneath for free-flowing dust particles is enough. Further, wet mopping under a rug is not necessary as an ongoing cleaning process. But, for whatever unique reason, that damp wiping is required, i.e., a spillage; hand wiping using a dampened soft cloth & then using a separate dry cloth for drying the newly wet area is a best practice!
DIY or Do I Call in Help?
Either Way, Taking House Cleaning Matters Under Your Control Will Make a Visible Difference!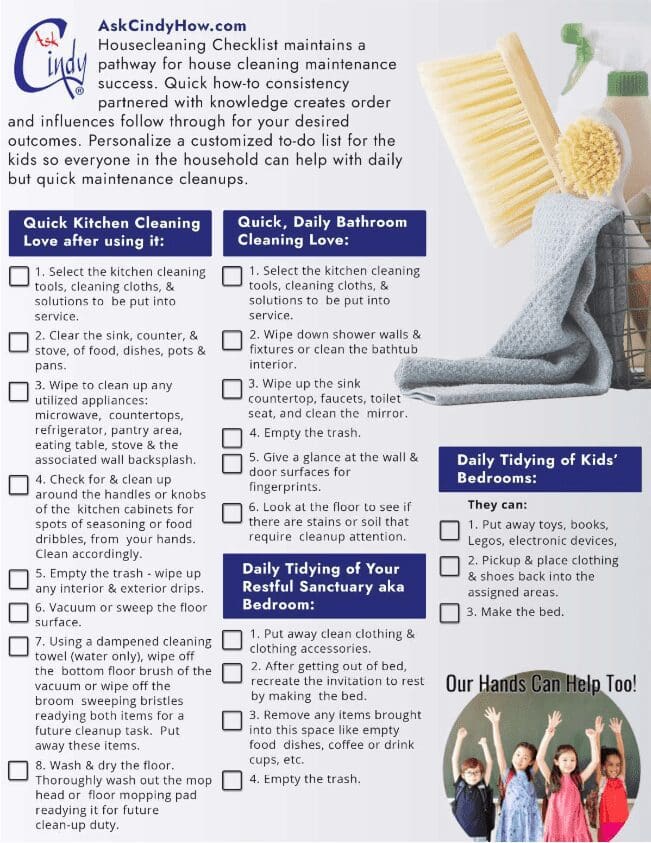 Getting Started:
Create a House Cleaning Checklist.
Know where you're going and the end-game for all cleaning activities.
Declutter a Room Before Cleaning It: This is a Golden Rule!
"A place for everything, everything in its place." An organized room or space facilitates efficient cleaning; just viewing an open and decluttered room can improve enthusiasm for cleaning it; the light at the end of the tunnel effect!
Clean High, then Low!
Up high: Hard-to-reach surfaces should be tackled in the following order: ceiling, ceiling trim, walls, the rest of the frame, and baseboards. Using a microfiber mop or a high duster with a telescoping handle either one is the best essential for cleaning the specific task and the surfaces at hand. Effective & Efficient Cleaning ✅
Dust Surfaces:
Dust off all surfaces using an ultra-plush soft microfiber dusting cloth for long-term dust-free finishes. They grab & hold onto more particles; with each wipe.
Window Cleaning:
Clean the window glass with top to bottom strokes using glass cleaner. Spray the cleaner onto a non-scratching glass microfiber cloth to remove soil, fingerprints, and smudges.
Floor Cleaning:
Floors are the last to be cleaned. Exception: If the floor area in any room or area is extremely dirty, do a deep floor cleaning. Then, once the entire space or location has been thoroughly cleaned, go over the floor appropriately.
Summary:
The described instructions above are broad stroke cleaning steps for any interior space. Identifying & addressing additional cleaning details for items in a room specific to your decor and layout will influence other cleaning activities.
1. Creating a realistic cleaning schedule that works for you and your family is critical for next-level housecleaning success.
2. Engaging in cleaning tasks in an organized way will maintain efficiency; this is critical for accomplishing with the least waste of time!
3. Delegating cleaning tasks to a cleaning service or private housekeeper(s) is a consideration that can save some time for other items in life. Still, either one of these delegating choices requires customized house cleaning guidance that is specific to your home. AskCindy promises, "A Clean Home Can Be Yours!" ❤️
How Can I Help Clean Your Residence?
Ask Cindy's Newsletter-Subscribe!