Heat's On: Cleaning for a Healthier Home This Winter!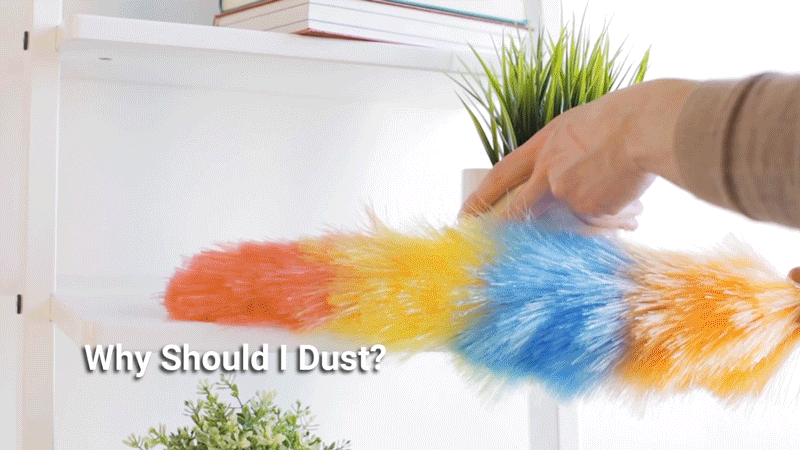 Seasonal winter temperatures outside will cool the home's indoor temperature, and in turn, we turn on the heat for the sensation of warming comfort. During the season of wintertime elements, we spend a lot more time indoors.
FYI: A warm atmosphere circulates dust. However, while dust is not caused by your heating system, it does influence its rapid circulation!
Wow! Where did that dust come from? Free-flowing dust particles are a bit more plentiful since circulating warm air rapidly moves particles around from room to room ongoing! Dispersing minute particles within the environment are happening 24/7, eventually landing on furniture, upholstered items, floors, walls & trims, countertops, etc.
Then, there's the seasonal flu & cold germs – Okay, cleaning, disinfecting, & sanitizing matters too! 🤧
Dusting, vacuuming, cleaning & sanitizing high-touch areas are detailed essential winter cleaning tasks for a healthier home. 💖
As we spend more time indoors out of the cold and as the cold & flu season comes in strong, the cleaning activities below will help protect yourself and your family during the winter.
I wish everyone a pleasant & cheerful journey toward the holiday season. Stay well, and stay safe!
You Don't Want To Skip Dusting Tasks
Dusting can feel like a never-ending task, but keeping up with it can have many health benefits. Below are four benefits that contribute to well-being.
Pet Dander & Allergen Removal
Living indoors more during the winter, so are the types of particles & allergens in the air. With over 50 million Americans affected by allergies, dusting can be your first line of defense against these particles.
Reduces Stress Levels
A dusty and cluttered environment can make you feel helpless, anxious, or overwhelmed. Even studies with women show that those living in an unclean & disorganized environment have increased cortisol levels (the stress hormone) in their system.
Stay Safe
Did you know dust can even be responsible for accidents in your home? Slips and falls happen much more often when the dust is present in a home. Dust can also be a fire hazard, the last thing you want to happen in your home.
Sleep Soundly
Dust can keep you up at night and make it harder to get a good night's sleep. If allergies also plague you, the symptoms can make sleeping through the night a little more complicated.
Dust Accumulation, Where?
Here are some of the most common areas dust can be hiding in your home:
The Bedroom
Window Blinds
Top of In-home Air Conditioning Units
Behind the Bed
Top of Your Nightstand
Back of Your Closet
Doors, Trims, Edges, Corners
Baseboards
The Bathroom
Underneath the Sink
Behind the Toilet
On Light Fixtures
On the Mirror
Exhaust Fan Covers
Doors, Trims, Edges, Corners
Baseboards
The Living Room
Bookshelves
Crown Molding/Door Frames
Picture Frames
Under the Couch
Window Ledges
Air Vent Covers
Doors, Trims, Edges, Corners
Baseboards
The Kitchen
Top and Bottom of the Refrigerator
Behind the Stove
On the Microwave
Behind Dry Good Containers
On Shelves & Related Sides
Doors, Trims, Edges, Corners
Baseboards
Skillfully Designed Helpmates & Solutions for Easier Cleaning?
Cindy has you covered!
Vacuum Before Mopping?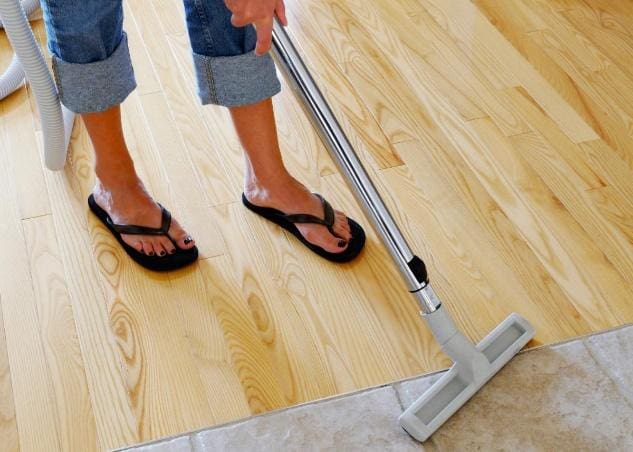 Surface Dirt: This is the loose stuff floating around. The best way to capture it is by pulling out the trusty vacuum cleaner unit to capture dust with its commanding force.
Soiling Droplets: This is left behind matter that may have been a liquid at one point but is now adhered to the floor as a spotty disturbance.
Dirt particles are comfortable living on your bare floor surfaces, but if you head straight in with a mop to try and take care of it, you may be helping to create a layer of the sticky film by wetting all that dust down onto the floor. Vacuuming first is a comprehensive approach because it captures dust effectively off of your bare floor surfaces. Dust-free floors provide a well-prepared surface for mopping up any remaining soil residue.
Sweeping the bare floor surface may seem more straightforward. Still, these dynamic back & forth motions can kick the dust into the air and have it resettle onto your floor surface. Equally as important, uncaptured dust particles can randomly travel with gravity to land on surfaces & items near & far – Yikes! Interestingly, dust particles are free-falling microscopic dry matter. When dust is visible, it is a bunch of clumped particles. Thus, thoroughly sweeping any bare floor surface initiates an endless chase to capture dust completely; this floor-cleaning task effectively becomes a challenging activity. Let's say no to this approach for sure. Controlled gentle sweeping for a targeted bare floor area is fine, but overall sweeping is unacceptable for a large floor surface.
Cleaning, Sanitizing, and Disinfecting Simplified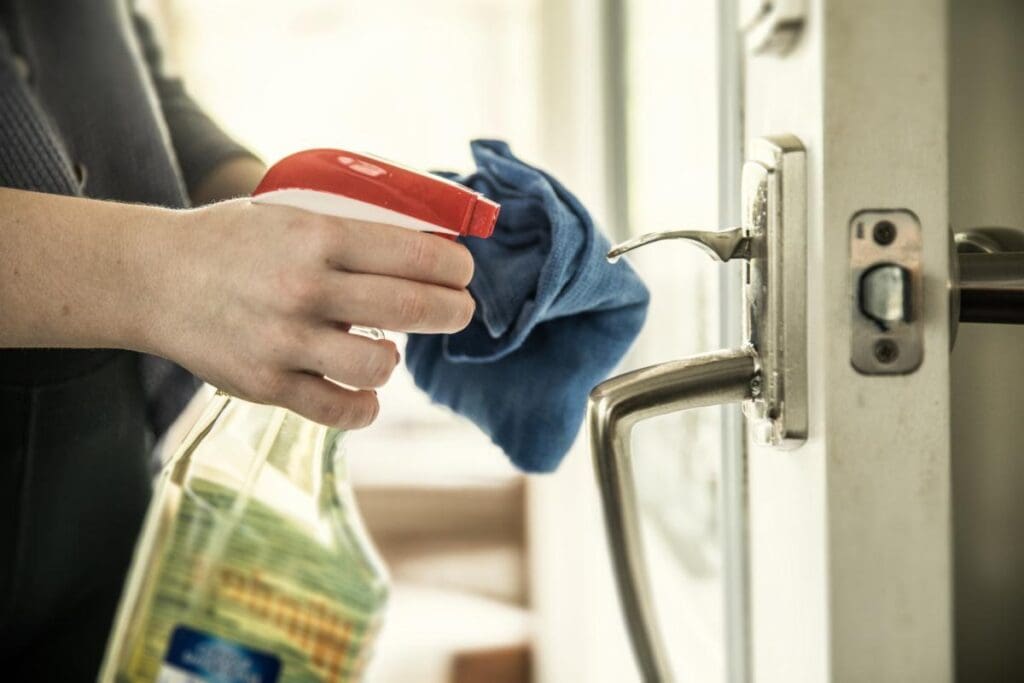 Cleaning removes most germs, dirt, and impurities from surfaces. Clean effectively using water & soap and scrubbing.
Sanitizing reduces germs to levels public health codes or regulations consider safe.
Disinfecting solutions are manufactured to safely kill 99.9% of germs on surfaces and objects without harming finishes. *Carefully select branded products for your disinfecting task. Choosing organic or traditional solutions is an option since many selections perform effectively for germ-free outcomes.
Additional Facts For Various Cleaning Tasks
Always Sharing Expertise w/o Judgment:
How Can I Help You With A Specific Task?
Ask Cindy's Newsletter-Subscribe!